Welcome
My name is Jayme and I am an environmental advocate and sustainability consultant, an overly enthusiastic foodscape gardener and the creator behind Handmade by Jayme (cool handmade gifts, art, and non-toxic skincare products). My journal represents my thoughts about living a sustainable and healthy lifestyle, which should be second nature to me, but sometimes isn't. My website represents, well, me.
I started blogging a few years ago as a way to interact with the sustainable construction community; it morphed into an outlet to express my opinions on the sustainable movement as a whole and how one person can live within it.
I enjoy my studio – where I create quilts (both large and small), watercolor paintings, and more – and my kitchen where I create healthy skincare products. I am always keeping an eye out for DIY handmade and homemade projects, ways to inspire others, articles of interest and activities to keep my kids entertained.
I would like to bring you along for a sustainable journey, where you will meet my amazingly supportive husband and two children. I hope that by sharing my experiences, I may inspire you along the way.
Happy reading!

---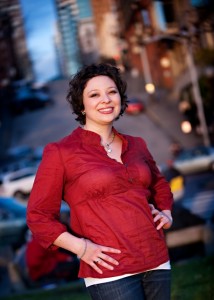 Jayme M. Carleton
CSBA, LEED Green Associate