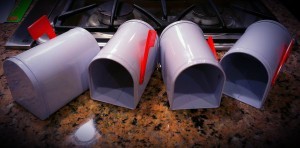 Now that my kids are getting a little older, I wanted to make a little treat for them. Ok, a little mailbox to hold their treats. When I saw these plain mailboxes at Target, I knew just what I would do!
I first thought that I would only put these out on Valentine's Day, however, the more I thought about it, the more I liked the idea of having them out starting February 1st so that the kids could leave little notes for each other and for Daddy, not for Mommy is what I was told. (insert, sad, crying face)
Supplies Needed:
Mailboxes from the dollar bin at Target (one for each person)
Permanent markers
Stencils for letters
Any other findings, stickers, glitter, etc which catches your eye
Start with the mailboxes. I had to clean them with goo-gone which is super toxic, but it was the only thing which would take off all of the tape residue. I ended up with nice, clean, white mailboxes ready for my handiwork.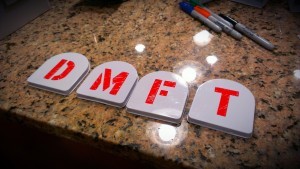 I then used a letter stencil for the front of each mailbox. I choose "M" for Mommy, "D" for Daddy, "T" for Thomas and "F" for Fern.
For the sides of the mailboxes I ended up doing something different on each mailbox. For Jordan's (Daddy's) I did everything I love and admire about him. I went with the hip Subway art theme. I really like how his turned out. For the kids' mailboxes I wrote out everything I love about them and am proud of. I used dots to seperate the thoughts and just kept writing one after the other. For my mailbox I had my lovely hubby write out everything he loves about me. After putting his words on my mailbox it looked a little sparse :-(, but I had to let him off easy since I made him give me a list in about 30 seconds while he was watching tv. I later noticed that he wrote me a little secret love note inside the mailbox in marker WHICH I LOVE!!! It melted my heart – swoon!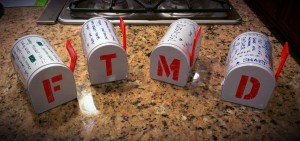 I hope you have fun doing this mailbox craft. It is something which will last for years, is cheap and the kids will love!
Happy crafting!
Jayme