For this swap, I decided to go a little more intensive and I made a Mr. Potato Head project. When I looked on the web and Pinterest for ideas, there was one which really jumped out at me; it was the laminated Mr. Potato Head where you change out the velcro body parts. What a great thing for a 2 year old to practice with! Mr. T is learning his body parts now and I know he is going to love this game!!! (Everything is "eyyyeeess" or "nosssse" right now.)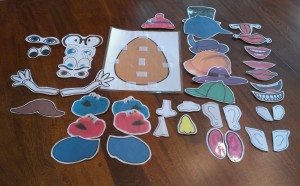 Supplies Needed:
Laminator/Pouches
Printed Parts
Velcro (normal strength, peel stick on kind)
Gallon Ziploc Bag
Scissors
Paper Cutter (optional)
Now, for you to create this from scratch would be crazy. It took me a tremendous amount of time to find free clip art of body parts, which is why I want to share with you, my beloved readers, the templates I made.
Here are the PDF files with the body of Mr. Potato Head and a few parts courtesy of 2 Teaching Mommies (so please don't blame me for the lower resolution on a few of the parts and the pen mark through the hand).
Be sure to laminate everything after you print so that the parts have a longer life span. For the Mr. Potoato Head body, I ended up trimming it quite a bit so that it would fit easily into a gallon sized Ziploc bag. Be sure to measure the body and the bag before you laminate.
I laminated the "easy" way where you print the page, insert it into the laminating pouch, laminate, then trim the pieces out. Realistically, this would make the piece easier to fall apart or get wet, however I felt that if this game lasted a few months, we would be good to go. Saving the time by laminating the easy way worked for me. Also as a side note, it has been almost 5 months now and the pieces are still good as new. After all of your pieces are cut out, you will want to add velcro. Be sure to use the scratchy side on the Mr. Potato Head outline and the fuzzy side on the pieces or they won't stick together.
I purchased a Scotch Thermal Laminator and Pouches for this project and highly recommend it!
I hope you decide to host your own busy bag swap. Happy crafting!