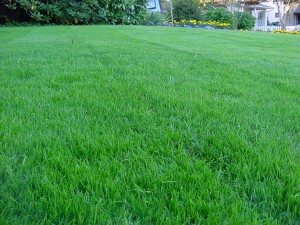 Recently the hubby and I decided to participate in the "green grass" lawn program through Virginia Tech. A Master Gardener came out to our house, took soil samples from our yard and sent them to the lab for testing. The results: we have good grass, it just needs a little love.
This program is really cool. For $20.00 you get a whole slew of information about your lawn's soil and can be better prepared for spring and fall's nutrient requirements. If you want the best looking lawn on the block, you should sign up!
To receive the one page survey and application to participate in the "Green" Grass program, please contact the Fauquier Extension Office at (540) – 341-7950 ext 10, or at tohlwile@vt.edu, or by coming by their office at 24 Pelham St. in Old Town Warrenton.
Here is the information directly from the Green Grass Program PDF:
Virginia Cooperative Extension in Fauquier County and the John Marshall Soil and Water Conservation District are starting a new program called "Green" Grass to develop nutrient management plans for homeowners. This plan will help grass growers know when and how much fertilizer and other treatments such as lime to apply to their lawn. The benefits to the homeowner will be a healthier turf, monetary savings, and knowledge that they are applying exactly what their grass needs. There will also be an added benefit to our community at large: these recommendations, when followed, will help to keep our limited water supply clean and nutrient free.
The "Green" Grass program will target neighborhoods in Fauquier County in key watersheds in which the John Marshall Soil and Water Conservation District encourages the use of agricultural best management practices (BMP). These plans have traditionally targeted farmers and helped them manage animal waste and nutrient and sediment runoff from fields. "Green" Grass will promote similar goals for homeowners. It will help turf grass growers manage the nutrients on their lawn and minimize the harmful runoff that ends up in our waterways.
While farmers have made progress in lowering the amount of nutrients that enter our waterways, residential and urban nutrient loads continue to increase. Nutrient runoff causes stress to underwater plant and animal life and may cause algae blooms that can be deadly to fish. Pet waste contributes to the amount of bacteria in streams, lowering the quality of the water and increasing the likelihood of disease when people come in contact with these waterways.