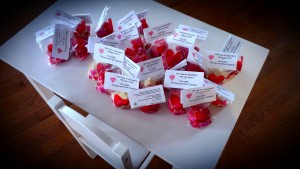 Since I had such a great time making Kim's playdoh recipe, I decided that I wanted to make another batch for Thomas and Fern's Valentine's exchange party.
I made three batches of playdoh in about 1 hour. This made 26 balls. However, I needed 33 balls now told 39 balls! so I ended up making a fourth batch. I made a vanilla color, pale pink and hot pink.
I used Avery's bag topper template to create the customized header. I ended up using their online program to do the design work since it had a collection of clip art and it was easy to navigate. I did have trouble setting up an account and saving the template so I didn't do that. Doing the topper design, printing, cutting and stapling took about 2 hours.
I purchased the decorated Ziploc bags from Dollar Tree. 40 bags for $1.00! 3.75″ x 5.75″, perfect for a small round of playdoh.
Then, I just gently dropped a small round of playdoh into each bag. Presto! Easy peasy, an awesome Valentine for toddlers.
Now, was this really a worthwhile Valentine's project to do? Timewise, probably not. However, it was a lot of fun being creative and giving something other then candy. We will see if the kids like it.
Have fun being creative!