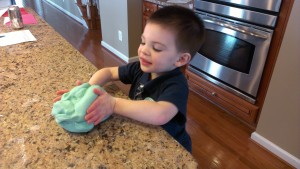 My cousin Kim is probably one of the most amazing women I know. Not only does she have three kids, she runs a preschool from her home! OMG!!! With my two rugrats there are times when I have zero energy to move; I just don't know how she does it.
I recently asked Kim to send me her super awesome playdoh recipe. And, being the amazing, kind person she is – she sent it to me immediately!
---
Kool-Aid Playdoh
By Kim McCarthy
2 1/2 cups white flour
1/2 cup salt
2 packages kool-aid (unsweetened)
3 tablespoons vegetable oil (I used an olive oil blend and it was fine)
2 cups boiling water
In a KitchenAid mixer, mix all dry ingredients. Add boiling water and oil, stir. Knead for about 5 minutes or until nice and smooth. You can also do this all by hand and then knead on a floured surface. When cool, store in a sealed bowl or a Ziplock bag. No refrigeration necessary. Makes about 3 cups of playdoh.
---
I made this today and it turned out fantastic! I love the scent (if you buy the lemonade flavor, your scent will be lemonade) and the really smooth texture. I ended up making three batches, each a different color. For some reason I thought that the color of the Kool-Aid would be the same as the color of the packet, not true! The lemonade flavor (yellow packet) makes a nice vanilla color, the cherry flavor (red packet) makes a soft pink color and the tropical punch (blue packet) makes a hot pink color. Oh well.
I also figured that since it smelled so great, maybe it tasted great too – no way! LOL. It was a salt lick, hence the 1/2 cup of salt.
I plan to store the playdoh with all of Mr. T's playdoh supplies at his Montessori work station. I know he is going to go ga-ga for this playdoh and make lots of monsters using his Monsters University scare chair set he received from Auntie Nell.
Hope you enjoy!