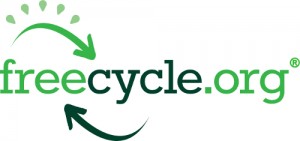 Yes, it's true. I have an obsession. It's called Freecycle. You've never heard of it?!? Freecycling, or free recycling, is the act of giving away usable unwanted items to others instead of disposing of them in landfills.
It is a super cool FREE online forum which allows you to give away and receive household items, gardening supplies, plants, food, clothing, toys, etc. for free! I list all of the kids' stuff on there when I am done with it and I receive a lot of books, toys and clothing through the generosity of others.
Some of the things I've Freecycled recently – an outdoor BBQ, rugs, fabric for sewing, art supplies, dog supplies, plants, dirt, tree branches (I'm serious!), vegetables from my gardens, kitchen utensils, toys, clothing… I could keep going on.
Some of the things I've received from group members – kids clothing (thank goodness!), toys (a play kitchen, indoor slide, other big ticket items), books, fabric for sewing, ladder, plants.
Pretty much how it works is you post on the forum either offering something or wanting something. People respond to you through the website however it is routed to your personal email. Then you arrange a time to pick it up. Normally, I have the hubby pick things up for me on this way home from work. It is super easy.
If this has peaked your curiosity, please check out the website at https://www.freecycle.org/ and look for a group in your area. Trust me, this is awesome! Not only are you able to give your stuff away to others who will re-use it, you can also receive items you need AND reduce what goes to the landfills.
LOVE THIS!